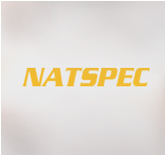 TECHnotes complement NATSPEC worksection Guidance text and cover a wide range of topics of interest to specification writers in 1 or 2 pages. They are general in nature and provide guidance for consideration that either relates to several worksections or does not fit into a generic worksection.
Numbering and classification of TECHnotes is based on the categories used for the AIA Environment Design Guide:
GEN - General issues and miscellaneous
DES – Design strategies
PRO – Products and materials
NATSPEC worksections identify any relevant TECHnotes in Guidance text. A TECHnote will be reissued if it is significantly revised and the footer will reflect the date of reissue.

The Publications Index includes abstracts of NATSPEC TECHnotes which are currently available.
New TECHnotes
GEN 033 Understanding two-part specifications
This TECHnote provides guidance on using two-part specifications and reference specifications.
DES 047 Specifying air filters
This TECHnote discusses options for specifying particulate air filters for air conditioning and ventilation.
DES 048 Chiller schedules
This TECHnote provides guidance on completing chiller schedules, including adapting and replacing information to accommodate chiller options.