Thank you to everyone who took the time to participate in the NATSPEC Architecture Student Prize 2022.


After careful deliberation, the 2022 Jury has awarded the following prizes:
High Commendation: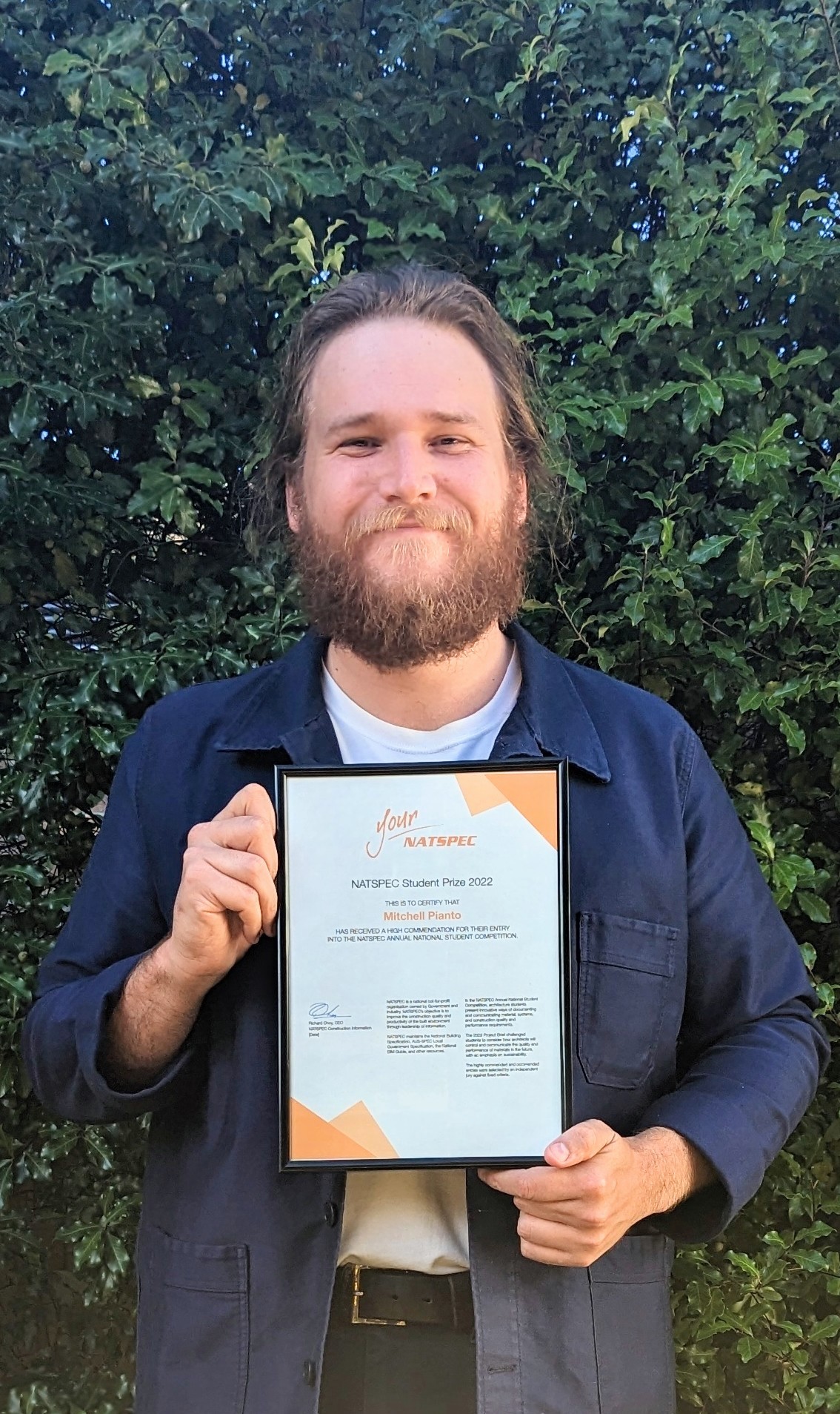 'What a Waste' Mitchell Pianto – University of Melbourne

To view the 'What a Waste' submission by Mitchell Pianto click here.

Commendations:
'The Flow House'
Stephanie Lade – University of Notre Dame
'Adaptive Modular Envelope'
Bony Babu George, Anjali Mohan and Bright Ernest Esim – Curtin University


NATSPEC determined that whilst the High Commendation was a topical and inventive proposal with an interesting presentation, future participants need to exceed the 2022 recipient. This does not detract from the value of all submissions.


2022 Judging Panel
Anthony Burke,
Professor of Architecture
UTS

Kathlyn Loseby,
CEO
Architects Accreditation Council of Australia

Rebecca Moore,
WA Government Architect

Tony Kemeny,
Director
Gran Associates & NATSPEC Director
Judges' Comments on the Highly Commended Entry
"The judging panel were impressed by both the ambition and novelty of this proposal, particularly with the focus on sustainability at a systematic industry level that the scheme targeted. Rather than take on a single material, the proposal aimed for the higher aggregate impact of building sites and trade waste as a whole. With the highly conspicuous temporary blue addition to the streetscape proposed, the panel felt the proposal not only offered an interesting means of practically managing better waste outcomes for building sites, but also broadcast a signal for change to multiple stakeholder groups, including engaging neighbouring communities, which seeks to bring about cultural and behavioural evolution on site in the industry where these issues matter most.
"Additionally, the panel noted the novel combination of illustration and research that underpinned the compelling graphic submission. From a communications perspective, while forgoing some of the technical material details that are typical, the panel noted the novel transfer of construction industry issues, technical information in the form of research and specifications and assembly options and user experience notes, all compiled in an easily accessible illustrated document with advocacy and engagement at its heart.
"The panel felt the aims of the competition to seek out innovation and address sustainability issues in the construction industry were admirably addressed by the unconventional proposal with its ambitious approach and clear-sighted strategy."